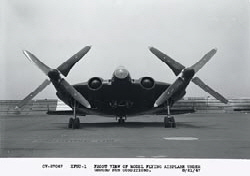 Front view. The propeller blades were
black from the root with white stenciling,
then varnished mahogany with yellow tips.
The right propeller had Hamilton Standard
oval decals and both propellers had small white "tracking" diamonds on them.
The letter of intent for the Vought VS-315 (XF5U-1) was issued September 17, 1942. The XF5U-1 was a twin-engine, single-seat, low aspect ratio flying wing type of airplane, manufactured by the Chance Vought Division, United Aircraft Corporation, Stratford, Connecticut.
The first XF5U-1 airplane (Bureau Number 33958) was used for static tests; proof loads, extended to ultimate, largely confirmed structural design predictions. The second XF5U-1 airplane (Bureau Number 33959) was used for experimental flight test and concept validation. It was never flown because many hours of engine run-up showed excessive mechanical vibration between the engine-propeller shafting, gear boxes, and airframe structure. The airplane was taxi tested on February 3, 1947 at Stratford, Connecticut, but, again, vibration levels were considered excessive.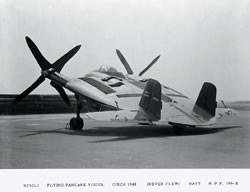 The airplane was being readied for shipment by sea through the Panama Canal to Edwards AFB, California, when the contract was canceled (March 17, 1947) because of still unsolved technical problems and the lack of Navy R&D money.
The jet age had arrived, but V/STOL had not.
XF5U-1:
Design and Structural Features