Story By: Michele Spry
Columbia, MO
My name is Michele Spry and I am a self-published children's author located in Columbia, MO. I want to share a very unique story with you about a World War II Marine Fighter Pilot who flew Corsair planes and also lives in Columbia, MO. I have attached some links at the bottom of this story that might be of interest to you as well as back up this information from various news, newspapers and magazines.
When I started my second children's book I was looking for a very specific character to use as a one of the main characters however, this would be a challenging task as I really wanted to find a World War II pilot. Finding a World War II veteran was a little easier but I didn't have any luck finding a pilot so I had pushed my writing to the side.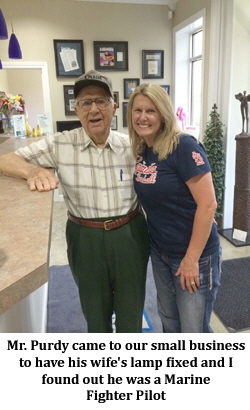 One day in 2014 a young man walked through our business doors looking to have his wife's broken lamp repaired. I remember this day vividly as he was proudly wearing his Corsair F4U ball cap and I asked "Mr. Purdy are you a veteran?". He replied with "I am a Marine Fighter Pilot from World War II". I knew at that moment he was the exact character I was looking for!
I would ask him several times over the next several months if he would go on an Honor Flight with me. I am heavily involved in Central Missouri Honor Flight in Columbia, MO and have currently traveled on 19 flights. Being able to experience an Honor Flight with our true American Heroes is something I will never forget and really wanted him to go. One day he told me "If you stop asking me to go on a flight I will tell you my story!" I gave it some thought and agreed that if he would give me his story I wouldn't ask him to go on an Honor Flight again. Little did I know this was a story that hasn't been told before and this would be a rare opportunity to hear about his military career.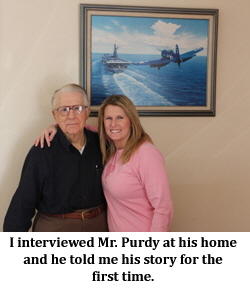 On February 2, 2015 I would visit Mr. Purdy at his home and begin to capture his story. I didn't feel I could write about someone when you didn't know what they had done. Hearing his story for the first time was nothing short of incredible. I would re-play his story over and over in my head to figure out what I would use for my children's book and finally started writing on March 3, 2016. Lt. Col. Ferrill A. Purdy had two prominent pieces of information: He loved flying the Vought Corsair and he spoke very highly of his wing man, Mr. John Tashjian.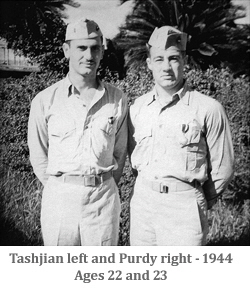 Once I had the bulk of the book written and sent off for the first couple rounds of editing I then switched my focus and began researching his wing man, Mr. John H. Tashjian. After a little bit of digging around we found Mr. Tashjian's phone number. When the voice on the other line picked up it was Johnny, Mr. Tashjian's son. I asked if his dad was there and he said that he took a flight to Australia and would be back in a few weeks. I asked him to give me a call when he returned and in 3 weeks I heard the voice of Mr. John Tashjian! He was doing well and living in sunny California!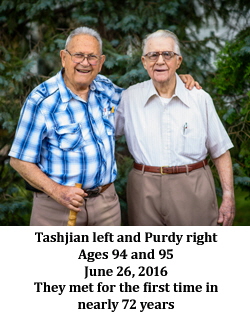 I happened to be at Mr. Purdy's house and these two ol' Marine buddies had a chance to visit on the phone for a few minutes. I asked if he had ever been to Columbia, MO and he said he hadn't but at the end of June he would be in St. Louis, MO for a symposium. I asked him to add a couple days to this trip and I would get him to Columbia, MO so that he and Mr. Purdy could reunite. On June 26, 2016 Mr. Tashjian would make his way to Columbia, MO to finally meet Mr. Purdy. These two Marine Fighter Pilots haven't seen each other since the end of World War II - nearly 72 years ago!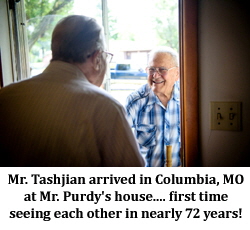 This was truly a highlight for Mr. Purdy and Mr. Tashjian as they were 94 and 95 years old! It was extremely special to not only bring these two Marine Fighter Pilots together but to see the smiles on their faces and listening to them catch up from the past 70+ years! It was bittersweet when Mr. Tashjian had to leave on June 27, 2016 but I am so thankful they got a chance to spend some time together over these couple of days.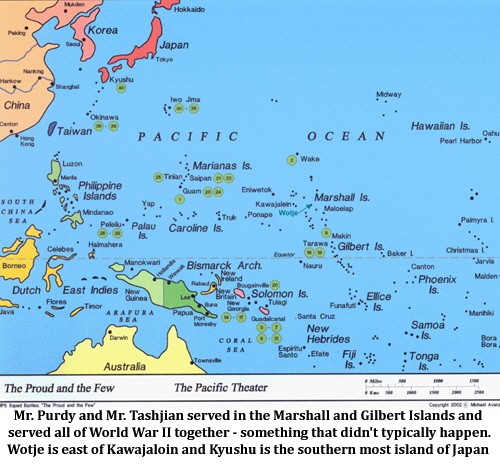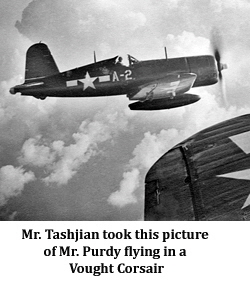 Mr. Purdy had been shot down by the enemy twice during his two tours during World War II. In the first incident during his first tour in World War II, Mr. Purdy's Corsair was fired upon by the enemy and was hit in the oil cooler causing the engine oil to bleed out and the engine stall. Mr. Purdy had to make some quick decisions and landed his plane in the ocean about 68 nautical miles from the island of Wotje. Mr. Tashjian would circle above Mr. Purdy's plane making sure he was protected from the enemy until the other boys went and got a nearby Navy destroyer to come pick him up. By the time the Navy Destroyer got to Mr. Purdy he was 12 miles from land and they almost didn't get him. He credits his wing man, Mr. Tashjian for saving his life. Luckily Mr. Purdy wasn't hurt, just water logged and had taken in a lot of ocean water, engine oil/fuel and shark replant but once they got him to the hospital on Roi-Namur they checked him out and he was flying again the next day.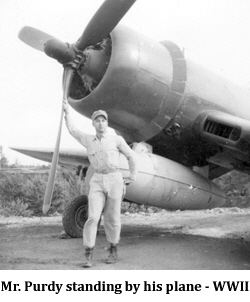 The second incident happened on his second tour in World War II when he was flying a brand new Vought Corsair F4U-5A1 low over Kyushu, Japan while escorting Navy P2V. Mr. Purdy was fired upon from the ground and his plane was hit and shrapnel entered into the belly of the plane. Mr. Purdy was hit with shrapnel in both of his legs, left arm, face (including eye), right nose, chin and lip. He was able to land this plane in a field in Okinawa, Japan where he passed out upon landing and medics picked him up, cleaned him up but left shrapnel in his lower right leg because it was close to the bone. This shrapnel worked its way out of his hip area many years later and there are still pieces in his hip today as seen on x-rays.
Mr. Purdy is extremely lucky to be alive and survived both attacks without serious injuries. He also gives credit to the Vought Corsair because they were a machine that could do anything you needed them to do and feels bad that he placed the one in the ocean.
As his family allowed me to look through his Flight Log Book from World War II I wanted to know more. I started researching the planes that Mr. Purdy flew as I wanted to know more about these two incidents. I would be submitting information to try and obtain 2 Purple Heart Medals for his heroic action during World War II and needed to find information specifically, about these two Corsair planes that he flew. I stumbled across a unique plane during my research and found that a particular Vought Corsair F4U-1A #17799 was removed from World War II and used in Hollywood movies such as Baa-Baa Black Sheep and was used for inspiration to help create the Disney Planes character, Skipper! This plane was then purchased by Mr. Ed Maloney, Founder of Planes of Fame Air Museum in Chino, California!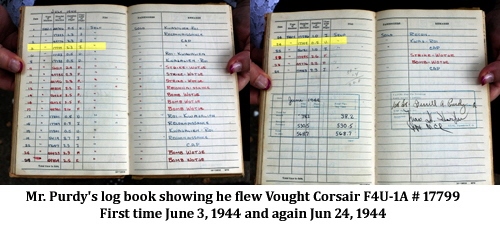 I contacted the museum and didn't get the answer I wanted so I sent an e-mail. Within a few hours I would talk to 3 different people and after submitting proper documentation, Lt. Col. Ferrill A. Purdy's World War II Flight Book, we made history. Mr. Purdy had flown the famous Vought Corsair F4U-1A #17799 that was owned by Planes of Fame Air Museum on June 24, 1944 and again on July 3, 1944. In the 50 years that Planes of Fame Museum has owned this plane they have never been able to connect a veteran to this plane until June 15, 2016 and now they can give their Vought Corsair F4U-1A #17799 a proper name "Combat Veteran".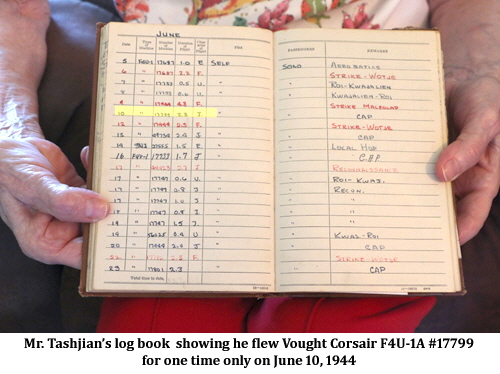 This was extremely exciting news for everyone involved but we had one more surprise. During Mr. Tashjian's trip to Columbia, MO he brought his World War II Flight Log Book with him. On June 26, 2016 we made history again and connected another pilot to this famous plane. On June 10, 1944 Major John H. Tashjian flew this plane during World War II. There has been a third pilot found that also flew this plane 6 times during World War II however sadly, he has already passed away in the 1980's.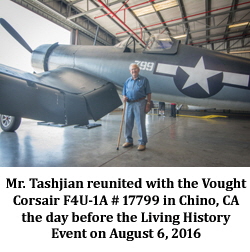 I was asked to travel to Planes of Fame Air Museum in Chino, CA because on August 6, 2016 they would be providing a Living History Event featuring the Vought Corsair F4U-1A and they wanted me to talk about this newly discovered story about Mr. Purdy and how we figured out that he flew this very aircraft before flying this Corsair over the museum for everyone to see that she can still fly. Mr. Tashjian and his son, Peter would be there with me and Mr. Tashjian would have a chance to reunite with the very plane he flew when he was 23 years old. They took Peter Tashjian for a special flight in the exact Corsair his dad flew during World War II and that is something that Mr. Tashjian thought was really special and something he will never forget as he watched this special flight from the ground. The biggest surprise of the day is when Planes of Fame Air Museum allowed me to take a flight in the aircraft these 3 men flew during World War II. After speaking to 650+ people then getting this flight ….. It was certainly "A Trip To Remember"!
While Mr. Tashjian and his son, Peter, met us in Chino, CA for this very special presentation and reunion of a living pilot and a plane he flew it wasn't the same since Mr. Purdy was unable to travel with us. However, it was a day of honor and respect to an aircraft that so many love.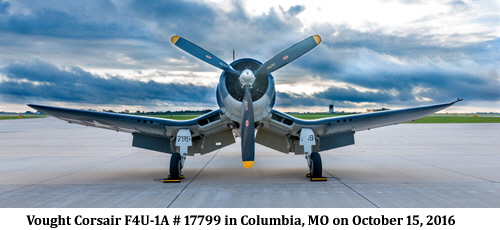 Upon my return to Columbia, MO I couldn't help that we needed to get this Vought Corsair F4U-1A to Mr. Purdy. I made arrangements with Planes of Fame Air Museum and they allowed me to fundraise and they would fly the plane from Chino, CA to Columbia, MO to reunite with Mr. Purdy. After all, if Mr. Purdy hadn't told me his story I would have never found his wing man, reconnected them and then found this very special Corsair they both flew during World War II.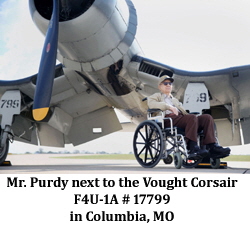 In less than 40 days we raised the $28,000.00 needed to fly this plane to Columbia, MO and on October 15, 2016 we held a FREE public event to honor Lt. Col. Ferrill A. Purdy for his service to our country and reunite him with a Vought Corsair F4U-1A that he flew during World War II. He was overwhelmed and never expected anything like this but he was honored and respected in front of 200+ in attendance!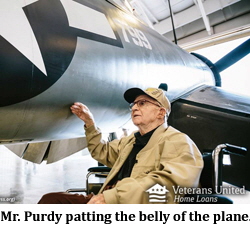 One of the biggest memories of this day was for him to "pat the belly of the plane" just one more time. Something he always did before each flight as a sign of respect. He wanted that plane to know that he was going to do everything in his power to get her back on the ground safe and sound. He hoped that she would protect him while in the air.
The biggest highlight of the day for him was to watch his daughter, Gayla Maier and his son, Greg Purdy take a flight in the very plane their dad flew during World War II when he was just 22 years old! Not something that happens often but something Planes of Fame Air Museum felt they needed to do to show honor and respect for one of the pilots that flew this very plane during World War II. It was truly "A Trip To Remember" and something he talks about often with a big ol' smile!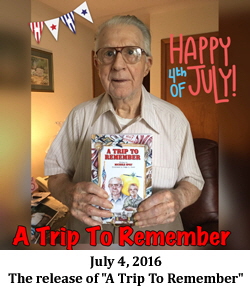 I released "A Trip To Remember" on July 4, 2016. It was a very exciting time and I couldn't wait to share Mr. Purdy with the world! It's still something that we shake our heads about and have to ask ourselves "Did this really happen?". In 8 incredible months I wrote my book, found Mr. Tashjian, found this very special Vought Corsair F4U-1A # 17799 and reunited them all together however, none of this would have ever happened if Mr. Purdy had never walked through our business doors wearing that Corsair F4U ball cap.
"A Trip To Remember" is a 25 chapter fiction book for 7-12 year olds. It's about a 4th grader, Jaxon James who gets an opportunity to go on a Hero Tour (similar to an Honor Flight) as a Junior Guardian to Lt. Col F.A. Percy.
I visit schools all over the Mid-Missouri area talking about "A Trip To Remember" but spend a lot of time telling them Mr. Purdy's real story. The message I talk about most is to honor and respect one another, especially our veterans, every single day. If it wasn't for our veterans who have previously served and our active duty military men and women who are currently serving we wouldn't have the freedoms that we have today. I also encourage students when they see a veteran and/or an active duty military man or woman to take a moment (of course tell their parents what they are doing) and go over look into their eyes, shake their hand and thank them for their service - just a simple gesture that means so much.
I visit Mr. & Mrs. Purdy weekly and we sign books, talk about World War II including his love of the Vought Corsair and life. Mr. Purdy and his wife celebrated their 63rd Wedding Anniversary on February 28, 2017 and I couldn't imagine life without the Purdy family!
I give all book awards to Mr. Purdy because if he hadn't given me his story none of this would have been possible. He has won 3 different book awards and he has been nominated for 8 more. Very exciting for sure!
(Among the nominations and awards for "A Trip To Remember":)
2016 Shelf Unbound Best Indie Book Competition - Runner Up
2016 Royal Dragonfly Book Awards - 1st place for Military and 2nd place for Children's Chapter Books
(Mr. Purdy is pictured with the following awards:)
2016 5th Annual Beverly Hills Book Awards - Finalist in Juvenile Fiction and Finalist in the Regional Fiction: Midwest
Mr. Purdy's other life achievments:
Mr. Purdy attended William Jewell College in 1940 at age 18 and learned to fly primary, secondary and cross country before entering the Navy in the Spring of 1941. He then was asked to transfer into the Marines. He became a Marine Fighter Pilot in 1943 during World War II and loved flying the Vought Corsair. At the end of World War II he finished his college education at William Jewell receiving a Bachelor in Science and a Bachelor in Arts. He moved to Columbia, MO and attended Medical School at the University of Missouri. He received his Masters Degree and PhD in 1954. Instead of pursuing his dream of being a doctor he was asked by Dr. Westfall and Dr. Ellis to stay and teach. Mr. Purdy would become an Assistant Professor of Pharmacology and Physiology at the University of Missouri for 38 years before retiring on September 1, 1987.
More articles about Mr Purdy and the Vought F4U Corsair
http://www.warbirdsnews.com/aviation-museum-news/planes-fame-air-museums-f4u-1a-corsair-combat-veteran.html
http://www.columbiamissourian.com/news/local/friendship-reveals-the-decorated-past-of-a-world-war-ii/article_e9d06514-8a45-11e6-aed2-ffcecffae47c.html
http://www.columbiamissourian.com/visuals/photos/photo-gallery-ferrill-purdy-reunites-with-his-wwii-plane/collection_bc2e50c6-9319-11e6-8cc2-0f75716a4ef7.html
http://www.komu.com/videos/veteran-reunited-with-world-war-ii-aircraft/ (Video from our local news station)
http://usmclife.com/2016/11/world-war-ii-marine-reunites-aircraft-flew-pacific-72-years-later/
I have been telling Mr. Purdy's real story and have updates about things related to him/ Planes of Fame Air Museum / Mr. Tashjian that might be of interest..... Here's the link:
https://www.facebook.com/SPRYPublishing/